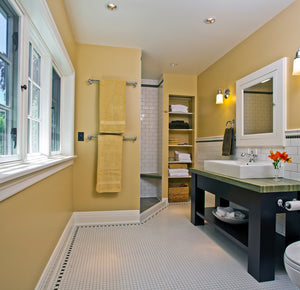 Why it is Important to Choose the Right Paint for your Bathroom
Exciting times ahead - you're renovating your bathroom! 
Decisions on bathroom renovations can be tough - you have to watch out for making bad mistakes in your decisions. 
Choosing the wrong kind of wall paint is one of these you really really want to avoid. 
'Why' you ask? Because, your bathroom is the one room in the house that is going to produce large amounts of damp and steam - especially in those cold winter months when the last thing you want to do is have a window open while you're showering - brrrr. You also want to keep in mind that some paints are easier to clean and wipe down. 
If you don't believe us - read this short blog. 
Things you need to think about: 
Mould 

Mildew

Moisture 

Dirt
These should be at the forefront of your mind and it is all about choosing the right finish. It is generally agreed that the right finish for your bathroom walls are finishes that are shiny. 
What shiny finishes are there? 
Eggshell

Satin 
The good news for you is that we offer both these finishes for sale, and deliver, on our online store! 
What we recommend is: 
If you want to take your precautions to the next level and your heart is set on a matt finish we also have specialist finishes that are formulated to resist mould or damp!! 
So now that you know what kind of paints we would recommend you use - we thought we would finish off this blog with a few other little hints and tips. 
Colour:
If you are looking for colour inspiration - we always recommend going for neutral, calming tones. Your bathroom is a place where you get to be alone and pamper yourself and you want to feel serene! Read this blog for some ideas. 
How-to:
Painting your bathroom isn't the same as painting any other room in the house. You have to pay attention to detail and make sure that you have cleaned properly before applying your new coat. This is a great how-to-guide to follow, if you feel you're in need of some tips!
Now you're up to speed - you can get painting! If you have any questions or would like to find out more about the paints we recommend, please email us at, sales@tradepaint.co.uk. 
Enjoy your DIY days. 
---